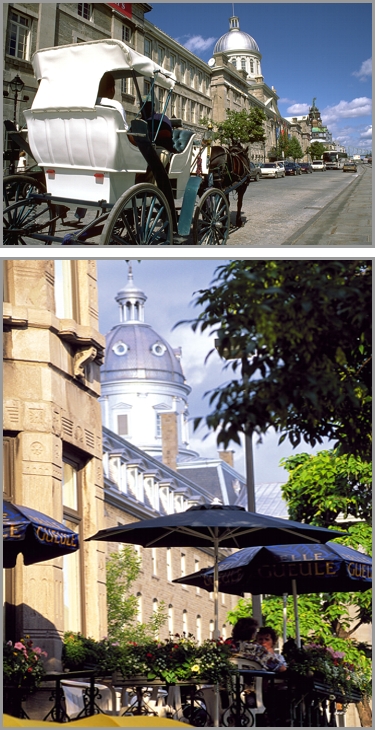 Montréal is an international city, accessible from just about anywhere in the world!


Connected via major airlines across the globe, Montréal is only an hour and a half from New York City, two hours from Chicago, and six hours from London. Montréal-Trudeau International Airport has recently undergone major renovations in order to improve services for travelers and to modernize the infrastructure. A new transborder jetty was opened in 2003 and an international jetty was opened in 2005. Taxis and limousines ensure quick service to and from Montréal's downtown core. There is also shuttle bus service, l'Aérobus, which links the airports to convenient connecting points in Montréal.


L'Aérobus is the shuttle service from Montréal - Pierre Elliott Trudeau International Airport to the Montréal Central Bus Station as well as several downtown hotels. L'Aérobus shuttle service runs every 20 minutes, 7 days/week. Tickets for the shuttle (adults one way $13.00, return $22.75) may be purchased at the following locations:


Montréal Central Bus Station - 505, De Maisonneuve Blvd.

A complimentary shuttle service is also available between the Montréal Central Bus Station and major downtown hotels.


Montréal's Gare centrale (Central Station), with rail connections from New York or Washington, is also a major stop for domestic trains from eastern or western Canada. The downtown station is conveniently connected to Bonaventure underground métro station by a pedestrian passageway. Bus travellers arrive right downtown at the Montréal Bus Central Station which is also connected to the métro (Berri-UQAM station).


Montréal is only 47 km (29 miles) from the New York border. The New York State Thruway (I-87) becomes Route 15, and U.S. I-89 becomes two-lane Route 133 which joins Highway 10 to Montréal. From I-91 in Massachusetts, highways 55 and 10 lead to Montréal. Visitors coming to Montréal from eastern or western Canada use highways 20 and 40. Québec speed limits are in kilometres (100 kph equals about 62 mph). Gasoline is sold in litres (3 3/4 litres equals 1 U.S. gallon).

Please take advantage of the maps and listings on this site to plan your trip. Getting to Montréal is easy!